Oktober 2014:

Our new album "Course Oblivion" is out and available through all digital retailers. There is also a limited edition CD. Only 100 copies! Get it here!




January 2014:

on the 13th of March 2013 our new EP will be released on Noisj! Its called "Redline" and its an extremely agressive 4 tracker. The sleeve is awesome and made by Maurice Pinkster also known as The Relic, Cubic Nomad and Hidden Rooms.



The fifth part in our darkambient series is out now! Its an one hour track called "Night of the Cicada". Get it at our bandcamp. Its any price you are willing to pay!




August 2013:

We had to wait to announce it til the organisations gave its permission, but TPROE will play at the Q-Base festival in Weeze, germany. This is a large festival with 9 stages concentrating on hardstyle, hardcore, hardtechno and industrial hardcore. TPROE will play the Ammo bunker stage together with other artists from the Dark.Descent and Noisj labels.



Lots of news coming up!

First we have a new album coming out next week on bandcamp and limited CDr. Will also be available on Itunes, spotify, Beatport, Juno Download and whatever on the 9th of september 2013.


January 2013:

We are going to NORWAY! TPROE is being asked to play the K.O.M.A. festival in Oslo, Norway on the 21st/22nd of June 2013. Check the facebook eventpage for details!

November 2012:

We have a new EP scheduled for release! Its a three tracker entitled "Time Bomb" and will be available as digital download through several digital retailers from the 7th of December onwards!


August 2012:

Our new album "The Wall Of Fire" will be released from the 3rd of September onwards! Available from most digital retailers including Beatport and Itunes. It will also be on Spotify. The album is already available through Bandcamp with one EXTRA track, so if you want the special edition, GET IT HERE!

We also have released the third installment in the Cumulonimbus series with darkambient. Released as free download or a very limited CDr in DVD case. GET IT HERE!

We also have a LIVE show coming up, and like the gig in Leipzig this one will be yonder ye'old Iron curtain as well. On 22nd of September we will plat at club Fuga in Bratislava, Slowakia! DJ Krat will also perform a DJ set there so get ready for an overdose of TPROE!
April 2012:
Military Industrial Complex is released! Its available as limited CD and digital download. Click here to get it directly from Dark.Descent. It will also be available through Itunes, Beatport, Juno Download and tons and tons of other digital retailers.
Together with this release we have made a single edit of the titletrack, and its available as free download from our own bandcamp! Get it while its hot!
January 2012:

The people on our facebook already know, but we have found a new label. We had a three record deal with Vendetta Music which has now run its course. And though vendetta music did a hell of a lot for us, and made us quite known in the USA, it is time for us to do new stuff. The problem with an American label is that you are basically getting nowhere in Europe and since we live there and US visa laws are draconic beyond description the wisest course of action for us is to concentrate more on Europe because that easy accesable for us. This does not mean we will not be working with Vendetta Music or in the USA for the future, but as a band you need to grow, and its just makes more sense to have some of that closeby.
Anyway, as you can already see in the discography the new album "Military Industrial Compex" is already announced. It will be released on the Dark Descent label, which is a label concentrating on that mixture of industrial hardcore and rhythmnic noise which they generally call "Doomcore". How's that for a genrename! beats aggrotech with miles we think.
We got in contact with them since it turned out they had a radio program on the local radio in Dordrecht (a minor city near Rotterdam) in which they played our stuff. When they exsisted for five year they invited us (and Mono-Amine) to come do an one hour mix and an interview. We added facebooks, and so i became aware of what these guys do, and was very impressed. They release very good very brutal dancefloor stuff. After we fulfilled our deal with Vendetta we asked them if they wanted to do a TPROE release and they did!


December 2011:

The new EP "Reign of terror" is now also available on iTunes!
November 2011

I just got confirmation all music of TPROE will be pulled off spotify and similar services. Reason for this is the ridiculous low royalties these services are paying and their business model being hazardous to other sorts of music services (CD's, digital downloads). With services like this it will become impossible to earn a buck with music. So in the future all TPROE music released on Vendetta will be off Spotify. Our own self released music isn't on there anyway, so we will be unavailable there, and rightly so. Currently a lot of smaller indielabels and bands are pulling their material of Spotify, so we are not alone in this.
Our music will still be available through Itunes, Amazon, Beatport, bandcamp and other digital retailers.




The new EP is out! The title is not "hell" however, but "REIGN OF TERROR" because a lot of songs are about the current financial problems and the possible aftermath after that. The EP is only available as digital download. This is because CD sales are so poor nowadays that making them only nets to big losses and since we never even broke even on our own earlier self released stuff we decided to stop releasing CDs and go fully digital. There will also be a limited CDr version, but we plan on making them for ourselves and on demand. If you want that, drop us a line, but be prepared to wait for it a bit, because it is on demand, so we have to actually have someone make them when you order one. It is not our wish, but something the current market drives us to. Anyway: The music is what you come to expect from us. Hammering harsh industrial with a very dark and bleak image.

You can get the new EP on bandcamp. Click here for a purchase or to check out the tracks.

August 2011

Took a long time to update, but with all these social networks it gets quite the job to keep track of them! The news for tPROE:

Two new releases coming up! The new album "Machine district" is available from all digital retailers from around the 25th of august onwards, and the hardcopy CD should follow soon after that. It has become a hard hitting album which will please tPROE fans everywhere. After that we will release an six track EP called "HELL" with more new material. This release will be only available on bandcamp and as a very limited CDr. We are a bit experimenting with formats in this age of music where barbarisms (illegal downloads, ripdeals from the likes of spotify, Showcase festival demanding bands paying money to be considered to play) runs rampant.

We have also made our entire selfreleased backcatalogue available through bandcamp for low prices and some releases even free. Check it out! There are also unreleased stuffies on there like the missing album "Gravity machine" and an album filled with tracks we did for compilations.

March 2011
The song "Gleise 518 g" is also featured on part III of the Worms of the earth compilation! You can get the compilation with lots of cool IDM and Darkambient here. Check that out! Free download!
"Solipsism" is OUT. Preorders have stopped from 1 march onwards. Only the official album available for all orders after 1st of March 2011. The album is also available as a digital download at bandcamp for a mere 4 euro's. You can also listen to the full album there. Take a look at the packaging here:
February 2011
tPROE music is finally available from BEATPORT! For now only Juche and Under Stress, but more will follow! tPROE is infiltrating the techno scene! Get yer fix here!
January 2011

A happy new year from tPROE!
First off we start with the anouncement of the release of the new tPROE darkambient album. This will be a special release. The album holds 9 extremely dark and evil songs lasting for about 70 minutes in total. It's darkambient, so people who want bouncy disko-beats will have to wait for the upcoming vendetta album "Machine district".
Anyway, the darkambient album will be released in a limited handnumbered edition of only 100 copies. Releasedate is february or march 2011. For those who want even more special limited we offer a presale deal. Those who pre-order the "Solipsism" darkambient album will get a free "Solipsism addendum" bonus CDr with 40 minutes of extra material. The album itself is a real CD by the way. Those who want to pre-order: Go to the shop and just click the paypal link. Easy!


September 2010:
OMFG! Havent updated in a while! Anyway: We have a new EP out! Its called "Anger management" and it has five songs on it. It is available as a very limited CDr in an edition of 100 copies on New darkness Recordings, and as an download through Itunes and assorted retailers via Vendetta Music.
Tracklisting:
Anger management (single edit)
Android daggering
Anger management (Long disko edit)
Yeah yeah yeah
Filler

You can watch the promotional movie here:
The new album "Machine district" as well as the darkambient album "Cumulonimbus III" are almost ready. Expect releases in 2011 for both these critter!
October 2009:
The hardcopy version of "Babylon" will hit the street on the 30th of october. Click here for a fine purchase if you are in the Canada region. Other stuff will follow.
September 2009:
The new song "centurion" is up at our myspace. Check it out! We also have a fifth US date confirmed. 4th of october in San Antonio, Texas. We will be playing with Hocico and Hardwire here as well.
Augustus 2009:
WE ARE GOING TO THE USA!!
this are the dates:
9/27: Denver, CO @ The Vendetta Festival
9/29: Seattle, WA @ El Corazon (w/ Hardwire & Hocico)
9/30: San Fransisco, CA at DNA lounge (w/ Hocico)
10/2: Hollywood, CA. Klub Terminal at Florentine Gardens (w/ Manufactura, Hocico, Blackcentr, and Hardwire)
Maybe some more will be added. Who knows. USA is a freaking big country. Driving around takes up time. Any promotors who can squeeze stuff in there please contact Dave at Vendetta music.

May 2009:
"Babylon" will be released late june 2009 on cd and Itunes and assorted digital retailers.
In the mean time ya'll can listen to "Dirty distorted dancehall" featured on the "Extreme storfrequenz 3" compilation. It is released so get your copy now! Lots of bouncy industrial for all you clubbers everywhere.
And finally we play our first gig in the heimat of industrial: Germany! We play on the 5th of June in Exhaus in Trier together with Gorgot who are an industrial outfit from that region. Check them out!
Babylon is delayed due to problems Vendetta has with distribution in the USA. Latest news is that the album would come out this month, but i wouldn't be suprised if it takes some more time. I already started working on the next album, and have made a lot of tracks of which 8 are mindblowing dancefloor-foam-on-the-mouth-grinding pieces. I will make more tracks, but the well isn't run dry. Also ready is the "Cumulonimbus III" ambient album which holds three long (about 20 minutes) darkambient drone songs. I haven't made plans about a release yet. Maybe an extra disc on a future release? maybe on another label?
Februari 2009:
As a teaser for the upcoming album "Babylon" ya'll can sink your teeth into the free download single "Nicolae Carpathia died for your sins". Get it on our last.fm page.
January 2009:
Lots of news. At first: The new album BABYLON is ready and will be released around feb/march.
1- Ubermensch
2- Wolfpack
3- New babylon
4- Geo-engineering
5- White wall of death
6- LHC
7- Dirty distorded dancehall
8- Wardance
9- To prove a point
10- Nicolae carpathia died for your sins
11- Bow for Xenu

So you saw "Zeitgeist". Maybe you have even red the statement of the Unabomber. Are we being manipulated? Is there a grand scheme behind everything? Perhaps not, but when big groups of people coupled with technology create a society, this is what we get. Fair? most certainly not. Dangerous? Perhaps. But consider the alternative. Do we really want to return to the stone age because we are "not living in natural time"? Do we really want to endure hardship, poverty, starvation, disease and the likes, because some people believe this is not the way we are supposed to live?
Offcourse not. Therefor: BABYLON. We support the system. We are the system. We live the system. This is what we want. No matter the cost. Zion must fall. BABYLON WILL RISE.
"Babylon" strays from the normal industrial path. While maintaining the harschness of previous releases, tPROE mixes Dubstep, EBM, Dancehall, Rhytmnic industrial, Urban, drum&bass, Techno and even more funk into an explosive cocktail of dark rhytmnic funk-industrial. Straight up 4-to-the-floor technoid industrial, harsch dancehall, industrial breakbeat, dub-noise-step, violent drum&bass: It is all there. 11 songs, 50 minutes of pure concentrated progressive Industrial. Tha bomb.
Little promomovie with snippets from the new album.
And then there is LIVE shows! 9 in total now:
24 Jan 2009 JV Unitas ,Wageningen, NL
13 Mar 2009 Effenaar, Eindhoven, NL
14 Mar 2009 Poppodium Alkmaar ,Alkmaar, NL
20 Mar 2009 Metropool, Hengelo, NL
28 Mar 2009 De koornbeurs, Delft, NL
3 Apr 2009 Tivoli de helling, Utrecht, NL
4 Apr 2009 Manifesto, Hoorn, NL
11 Apr 2009 Simplon, Groningen, NL
25 Apr 2009 Slimelight, London, UK
And more to follow! Bookers worldwide can contact us for more shows.
September 2008:
"Singularity" is now available in the Itunes download shop, for those who wish to fuel their Ipod with subliminal messages.
August 2008:
"Singularity" is getting available through several online retailers now, and can be bought everywhere, even on Amazon. As usual the pirating is already on its way. Let me make one thing clear: If you fileshare music, and do not support the artists by buying the releases, you are not a fan, but a dirty parasite.
Work has already started on the next album (it is even more than halfway finished), and that album promises to be great, so if you want that one to get released, you better go buy "Singularity". I recommend buying it directly from Vendetta music here.
May 2008:

A few things have happened the past months. At first Daryl (NOIR) left the band. We wish him all the luck with his future endeavours, and especially with Jugend, his main band. Furthermore tPROE live has now two new members: Stefan Petrie for visuals (also known for his band Statik Sky) and Puck Berghout as live keys/percussion. We will also play live at the Effenaar in Eindhoven on the 4th of July.
And........
SINGULARITY is finally ready. Two weeks ago i received the masters from the masterer, and they are on route to Vendetta records to be pressed on CD for your listening pleasure (and that means, not downloading, but buying damnit!). Expect it in shops within a few months.
Tracklisting:
1. Age of machines
2. Singularity
3. 39715
4. Drone riots
5. Bionic funk
6. Female domination
7. The forge
8. Mecca glacified
9. The blasphemy challenge
10. The vigilante
11. Love & joy
12. The plague
13. Bitter seventeen

Promotional movie!


Jan 2008:
Very important news! tPROE signed a deal for three albums with Vendetta music in Denver, USA! We hope to release the new album "Singularity" through them. Watch the sky for details!
Nov 2007:
More live! tPROE will play at Cyberia, EKKO, Utrecht. Yes, people in Utrecht seems to like al the industrial mayhem we throw at them. We will open for FabrikC. Date: 21st of december. Doors 20:00.
Sept 2007:
Live! tPROE will play at the NOISE CENTRAL FEST at Acu, utrecht. Together with Adept, The Machinist & Industrial Passage, Androgene Collective and Franz Fjodor. date: 2 nov, start 19:00. DJ Distorted chaos will spin at the afterparty, so expect lots of noise and hard beats.

June 2007:
Time to officialy announce the coming new album! I had a lot of inspiration, so the new album is nearing completion. The album is entitled "Singularity" and holds 10 or 11 songs. Titles: Age of machines, 39715, Drone riots, The blasphemy challenge, Female domination, Bionic, Mecca glacified, Singularity, The plague, Forge, exponential growth.
Two new songs (Singularity and The Blasphemy challenge) are already on the myspace so get a little advance listening now.
As for details: "Singularity" will be a short album (about 45/50 minutes). No darkambient pieces this times, but full industrial stomping for as long as the album takes. Expect a release in the fall of 2007.
Also: 19th of July will see the release of the debute album from XmH from Vlissingen, The Netherlands. This new darkelectro sensation will surely set dancefloors on fire, and guess what: There is a tPROE remix of one of theis songs on the album. Read all about it on their website.
May 2007:
Currently i have the masters and artwork ready for a new album. A new tPROE album? Nooooo!
When i started out making electronic music, i started with a project called "Kratarknathrak". The music i make with this project is IDM/Ambient much in the vein of older Aphex twin (think SAW and SAWII). I released a bunch of CDr's (just as with tPROE) a vinyl album, and some netreleases. Somewhere in the coming months (probably July)i will release the first CD of this project. The CD will hold 12 tracks, with a total time of 61 minutes.
More information on this project on www.kratarknathrak.host.sk and the myspace is here.
tracklisting:

- Solstice
- Dark matter
- Parsec
- Cruising with dr phlox
- Big dipper
- Epoche
- Cryogenian
- Brane
- Les donnes informatiques
- Hilbert ruimte
- A rainy day
- Bunny
The cover:
The promotional movie:
April 2007:
News, what's for news? Well, currently i am busy writing new tracks for the next album. I have 7 songs more or less ready, and offcourse there will be more made in the coming months. Furthermore i did a remix for Silence is Sexy. I hope it gets released, so you all can hear it. And i just now finished a remix for the Dutch melodic dark metal band Annatar. Though that remix is not very industrial, but very drum&bass. Hope ya'll can do without mercyless stompin' for one remix.
We also have plans for a quite big european tour in the making in the fall of 2007. We hope this thing will happen. We will tour with two other industrial bands, and the plan is to do quite a large part of Europe. Promotors who are interested in this tour should contact Olli P at halfevil promotions.
There will also be a free download release consisting of reworked versions of tPROE songs (some of them dating from the demo albums), some unofficial remixes and covers we did (like NIN, Konono No1 and Test Dept), and a few outtakes. When these will be available? Somewhere in the coming months. Watch the skies (or better: this website) for details.
I added some reviews of "Lubrication" to the discography section. Check them out!
Furthermore: If people who attended our gig at Slimelight in London made pictures or movieclips: i would love to have them, so i can put a few on the site. Thanks in advance!
Jan 2007:
"Lubrication" is out and available. Go to the online shop for a fine purchase! Not sure yet? Watch the promotional video here:


Dec 2006
And another live date: On the 24th of February tPROE will cross the north sea to lay siege to the City of London! We will perform at Slimelight, and Crash Symptom will support us. DJ Matt Noise will spin some stuff as well, so this promises to be a nice night for lovers of crunchy sounds and hard beats.

We have two live dates to announce! On the 6th of january 2007 we are playing in Luxembourg. Venue is The Shiny'z in Kehlen Luxembourg. We will share the stage with Cyberpiper, Rome, and Implant feat Jean Luc de Meyer. Yes, that is that guy from Front 242. On the 2nd of February we will hit the Effenaar in Eindhoven again! We will play with This morn'omina there.

January 2007 will see the release of the fourth album from The Peoples Republic of Europe. Master and artwork will be delivered to the pressing factory next week,and the release date is set for january 1st of 2007. The album holds 13 songs. Tracklisting: Burden, Demolisher, Death, FSM, Lucifer, Lubrication, Absurdist, Jumonji-giri, Lesbian anal fisting, Laceration, Shake that booty, The Tokugawa solution, The myth of Sisyphus. The album will be released on our own New Darkness recordings label.
Nov 2006
"Lubrication" is as good as ready. Expect the release somewhere in the coming two months. Furthermore a few gigs are in the works , so watch this space for more details.

And for something less nice: There is a Russian website called "Lavamus" which sells our album "Under stress" as a download. Do NOT buy it from them. We have NEVER given them the permission to sell this on their website. These people are THIEVES who parasite on underground bands. Do NOT buy from them. People interested in a tPROE purchase can order CDs (hey, those are hardcopy's!) directly from us. In 2007 we will probably make our albums available through Itunes. We advise everyone to buy CDs though. You won't lose your purchased mp3's if your computer crashes that way.
Okt 2006
For bookings in Germany we teamed up with Halfevil-promotions in Hannover! They have some more nice bands like Schattenschlag, Fabrikc and Exxo zkeleton. Organisers in Germany who want to book us for a show: please contact Halfevil-promotions.
Sept 2006
And we will travel up north again! On the 14th of October tPROE will play at the Pericol de Moarte party in Groningen. The venue's name is The Devils playground in the Trefkoel building at the Zonnelaan 36 in Groningen. We will perform together with our collegues from H.E.R.A.S. and there will be DJ's spinning industrial and EBM.
Aug 2006
The new shirts are available! Go to our little onlineshop for a fine purchase!
The show at the Summer Darkness festival went very well! The club was packed, and everybody danced their asses off. We like to thank the boys and girls of Soman and Fabrikc for the great evening. Also a big shout to DJ Ollie ,DJ Distorted boy and the Summer Darkness organisation for more good music and vibes.
YouTube is great! We put some material down there, and linked it to this website. Check the sounds section. A live footage of "Pulling on the boots" performed in Utrecht can be found there as wel as crappy clips of "Monopoly of violence" and a NEW SONG called "Demolisher".
Speaking of new songs: The new album is almost finished, and currently we are on a labelhunt. The new album in this state will hold 12 tracks. Titles: Burden, Demolisher, Death, Lucifer, FSM, Lubrication, Absurdist, Jumonji giri, Lesbian anal fisting, Laceration, Shake that booty, The tokugawa solution. The title of the new album is "Lubrication" and compared to the previous albums the concept is pretty loose. It is just a collection of nice dance-songs centered around theme's like Nihilism, Atheism, Sex and Bootyshaking. Just your avarage dance album only FUCKING LOUD AND AGRESSIVE. Thats how we like it!
Merch: Always important! The "Riot squad" shirts are almost sold out. We heve one XXL and three M's left! This shirt is a limited of 50 copies, and there will be no reprint. A new shirt has been designed, and will be available in the last week of August. This is how it looks like: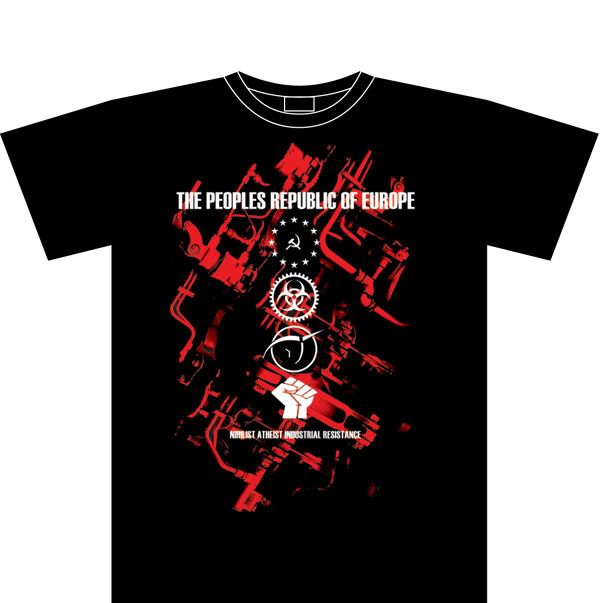 Price will be 12 euro's. When the order has arrived, the online shop will be updated.
June 2006:

And for more compilations: The third compilation of LA and Atlanta based industrial club Das Bunker called "Fear of a distorted planet" is available from the 25th of July. It holds an exclusive alternative version of "Monopoly of violence", so be sure to pick up a copy. The Law-rah collective is also on the album, so support Dutch underground in the USA and go buy it!

We are no stranger to hipness, so i made us a Vampirefreaks band page. If you have a profile on VF, feel free to add us. We also have a myspace for about a year, so if you have a profile there, so... well you know the routine. There are also two new songs on the VF profile, so check them out!
Extreme Sundenfall 4 will be released on the 23th of June. This compilation holds the track "Antiglobalist I" from the "Monopoly of violence" album. We are quite happy with this, though our name is a little bit miss-spelled as "The people republic of europe". But something to be proud of it is! On the compilation are also our collegues from Embolus and Statik sky, so be sure to pick up a copy.
Our gig at the Summer Darkness will feature an add on in the form of two girls from Neutroxsine who will do some bootyshaking with us on stage. Booyaka! Shambalaska! fo'yo all in tha industrial massive!
May 2006:
tPROE will play at Summer Darkness festival in Utrecht. We will play at Tivoli de Helling on Saturdaynight, together with Soman and Fabrikc, as part of the "Industrieel night". We will probably play at 3 in the night, so get some rest beforehand. Lots of new songs in the set as well, so do drop by for a look at the upcoming album!
March 2006:

The tPROE song "Antiglobalist I" will appear on the "Extreme Sundenfall IV" compilation put together by DJ Mike from The Matrix in Bochum. Watch the skies (or this site) for more info!

We added some reviews for "Under stress" online. Critics have been very good up until now, and lots of DJ's are very enthousiastic about the new album. Read them here.
And guess what? I started working on a new album. Keep watching those skies!
February 2006:
The show at the Melkweg was a blast. We totally tear the place apart. Check the "sounds" section to see three short movies of that night to cherish.
"Under stress" has been released. Go to our shop to order this fine piece of hard industrialism!
Tracklisting:
1- Under stress
2- Conveyerbelt
3- In control
4- Cathedral of ice
5- In isolation
6- Damnation train
7- Disaster psychology
8- In despair
9- Black out
10- The oligarchy
11- Die off
12- The long decline.
The press statement:
After the success of the second album "Monopoly of violence" tPROE returned to the studio to record the third, and quite possible bleakest and most nihilistic tPROE album to date. Under the title "UNDER STRESS" this album deals with the human society as a whole. A society on the verge of collapsing, due to an upcoming oil and energy shortage (Peak oil), and overpopulation. This is the tragic tale of a race of people who might know what is best for them, but wind up doing just the wrong thing. With 6 billion on a train without brakes heading for the abyss. You all bought your ticket for the Damnation train?
Various aspects of our society out of balance are dealt with on this album. From the slave labour our economy forces millions of people into, the new craze for "safety" from terrorist organisations everywhere, globalization, Peak oil, feelings of depression and isolation from our society out of control, and the uninevitable end in chaos, untold bloodshed, starvation and horror cold described as "Die off".
tPROE has no solutions for the problems we are facing. Our society won't allow the just solutions because they will destroy economy, power, and the safe life of billions. We are all forced to ride with the damnation train into oblivion. So we present to you: "Under stress". Cold, heartless, desolate and bleak. Enjoy the ride!

January 2006

"Under stress" will be send to the pressing factory in the coming week. The new album might very well be available for purchase at our next gig at the Melkweg in Amsterdam. The new album has twelve tracks ranging from hard teknoid industrial to dark opressive darkambient. The album will be released through our own "New Darkness recordings" label, and ready for purchase in the first half of February. Be ready for it!
December 2005
LIVE!! tPROE will lay siege to the city of Amsterdam, together with our British/American comrades from Tactical Sekt. Date of this all out assault is 17th of February, and the main base of operations is De Melkweg. And offcourse songs from the upcoming album will be performed here, and perhaps the new album is ready for purchase that day, so be ready for it.
November 2005
Nothing very new to report. "Under stress" is nearly finished, and currently i am looking for labels to release the bugger. The show with Alec Empire went very well, and we and Alec Empire and band swapped buttons. They liked us!
Did i mention we have a myspace? Everybody needs a myspace, so here is ours. Feel free to add.
August 2005
Live! Live! Live! tPROE will play an all out assault in Iduna in Drachten on the 8th of Oktober. We will open for ALEC EMPIRE, an old time favourite from us. Der neue schuss geht sauber durch die stellung. Be there or be elsewhere!
More shows coming up! Watch the skies for details.
May 2005

Work is progressing on a new album which is at this moment entitled "Under stress". I have put up some snippets of some possible songs from that album online as a little look at the upcoming album. Take a look in the sound section! The new album can be expected late 2005/early 2006.
The compilation "Lowlands industrialism 2" is available! It hold the tPROE clubstomper "Fundamentalist" as wel as 11 other hard grinding stuff from Dutch and Belgium indus projects. Report to the discography section for a look, and purchase in the online shop.
The Peoples Republic of Europe has released a new album. This one is an internet only release. Why? Well, because it is something different from what we normally do. When we started out, we were an darkambient outfit. We did however, continue to make that kind of music when we ventured on the latter harsch industrial path.
The new album is entitled "Cumulonimbus II [ambient recordings 2003-2005]" and consists of ambient tracks, loops, noises, drones and stuff we made during the last 2 years. This does NOT represent a change of style, but this is something we enjoy making, and in comparison to other bands, we do not condemn our past. If you click here, you can download the .rar file which will include the tracks and the artwork.
Those of you who love our hard grinding industrial stuff: We are working on new material for a late 2005/early 2006 release filled with hammering pounding beats.

During the may 1st gig a CDr in an edition of 75 copies was released, with three new songs from tPROE together with new material from Embolus and Statik sky. We have a few copies left, and we will send them to people who order for more than 25 euro's in our online shop.

April 2005
Own a credit card? have paypal? Then use our little online shop to purchase our fine products!

Monopoly of violence did get very nice reviews in several magazines and webzines. Read them all here.

T-SHIRTS!!
We have new shirts. The official "JUCHE" shirts are as from now SOLD OUT. We have two new shirts. One for tha sweeties, and this one is the much requested "Chickie legion" girlie. Furthermore we have the tough "Riot squad" shirt for the guys, in sizes M/L/XL/XXL. Price is 12 Euro for the girlie, and 10 euro for the normal shirt. Here's what they look like:
March 2005

Ekko? Again? Yes, don't ask how (though certain people will point at DJ X-X-X), but tPROE will play a special workers day gig at Ekko in Utrecht on the first of May. That's a sunday allright. We will play with Statik Sky and Embolus, and it wil start at 16:00, and lasts til 22:00. So time enough, to get home after the gigs!
Currently we enjoy the music of the Congolese band Konono No1, which could be described as some sort of African industrial/metalpercussion. Check them out. Also check the little remix tPROE has made of one of their tracks HERE.

February 2005

Wendy took some nice pictures of our show at Parkhof, alkmaar. View them in the photo division.
January 2005:
Live fun? Yes! The Peoples Republic of Europe will play live at Iduna, Drachten on the 1st of July. This will be an festival for Gothtronic, and we will play together with Soman.
A review of Monopoly of violence has been spotted on the internet! It is on Gothtronic webzine. Read it here

"Monopoly of violence" has been released! Report to the discography section on information how to obtain this fine recording!

December 2004
And on for some more live fun! Saturday 26th of February, The Peoples Republic of europe will perform at Parkhof, Victoriepark 4 in Alkmaar. Together with Militia from belgium. Also with afterparty with lots of indus and noise, so do drop by!
"Monopoly of violence" has been sent to the pressing plant. Wait and see! Also there will be a special Release party at the Cyberia party. No live gig here, but some tracks from the album will be played, and we sell the CD here.
November 2004
Work on the "Antiglobalist EP" led into a complete new album. So instead of a vinyl LP, we will release a complete CD in the beginning of 2005. Title of this new work is "Monopoly of violence" and it consist of 13 tracks. Main focus of the album is war, violence, agression and struggle. The tracklisting:
1 - Stronghold
2 - Strength though war
3 - No mans land
4 - Antiglobalist I
5 - The lesser holy war
6 - Riot squad
7 - On the offensive
8 - Teargas
9 - Antiglobalist II
10 - Cold war tactics
11 - Pulling on the boots
12 - Monopoly of violence
13 - Leviathan
Still some vocals need to be recorded, and some mastering and tinkering needs to be done. "Monopoly of violence" is a harsh album targetted at industrial dancefloors around the world.

Live fun? Yes! The Peoples Republic of Europe will perform at the "NoizeNation" festival in The Steeple in Waregem, Belgium. Together with Greyhound and Winterkalte. Three other bands will be added to the line up. Date: 26 March 2005. Be there or be [].

The Peoples Republic of Europe will also appear on some compilations. Watch this space for more details!
June 2004
And for some more live fun! On Friday the 2nd of July, Eindhoven will be the centre of an all out brutal attack of forces of The Peoples Republic of Europe. We will perform in a special package with Statik Sky, and DJ XXX. Place to be: Effenaar, Eindhoven.
April 2004
More live fun! The Peoples Republic of Europe will perform on the Summer Darkness festival in Utrecht on 13/14/15 august. We will play on Friday the 13th at Club EKKO, together with PAL, Terrorfakt and Angel Theory. Be there! Currently The Peoples Republic of Europe is working on a new release entitled "Anti-globalist". This might be a vinyl EP release in a limited edition. Expected summer 2004
March 2004
A suprise show was played at the Cyberia party at club Ekko in Utrecht. tPROE played two short sets of 10 minutes each, and especially the second set was a blast. We played together with Mono No Aware and Statik sky. Check out the live pics in the photo section. All are made by Stefan Petrie fron Statik Sky.
The Peoples Republic of Europe is asked to perform live at the "Dwaalspoor" party on the 15th of May. Place is 't boogje, Boogje 1, Rotterdam. Be there!
February 2004
And finally the new album "Juche" is ready for purchase by the masses of the workers society! over 50 minutes of harsch powernoise and industrial. Price will be 10 Euro/ 12 $ , and that is including P&P. Mind you: This album is an official CD release. So no more back ups after 4 years to preserve your music, but life long enjoyment! Report to the discography section for a look at sleeve and tracklisting, and (important) details on how to order your own fine copy.
January 2004
Currently we are awaiting funds for releasing the new album "Juche". Yes, it is (nearly) finished, and the new album consist of about 54 minutes of harsch and voilent industrial and powernoise. "Juche" will be released as an CD in an edition of 500 copies. Distribution will probably go through Clear spot/Bertus, and through us offcourse. Expect "Juche" in shops around February/March.

Live shows: Currently we are planning a dutch/european tour. We are already asked for a performance on the "Summer darkness" festival in Utrecht in August, but not yet confirmed. People who want to book us for live shows: contact us.
Line up for the dutch/european tour: [KRAT] & [NOIR]

Due to the fact that our live member XLII will be moving to the United States of America at the end of February, it makes it possible to tour the USA. We are currently planning an USA tour around August/September. If you are an organiser/promotor, and you want tPROE playing live, contact us. Mind you: we reside in Salt Lake City, so gigs will be limited to Rocky mountains area/West coast. Say from Denver to SF/LA, and Vancouver to Phoenix.
Line up for the USA tour: [KRAT] and [XLII]
November 2003
A very good critic of the lowlands industrialism LP has been written in the kindamuzik webzine. Click this link to read it. Dutch only! In thie review, The Peoples Republic of Europe are names among the best acts from this album.
The live recordings from the Alkmaar show on the 23rd of August are released as the "The siege of Alkmaar" live album. A few alternative versions of songs from the upcoming album "Juche" can be found on this album. Report to the discography section for a tracklisting, and a look at the sleeve.

The DJ promo "Hatred" from the upcoming album "Juche" hit the streets HARD. The Hatred V2.0 song is already a big dancefloor hit in the dutch industrial scene.

The Girlie shirts are SOLD OUT, Only sizes L, XL and XXL are available from now.
August 2003
The compilation LP "Lowlands Industrialism" which features the Peoples Republic of Europe track "Pax Europiana" is out now! Order your copy for 8 euro's + 5 euro P&P (Outside europe + 9 euro) through us! look here for more details
September 2003
T-shirts from The Peoples Republic of Europe are available from now! Order this fine piece of conservative bolshevist fashion now. The shirt is from the upcoming "Juche" EP, and heralds the fruits of the North Korean people, and it's great leader Kim Yung Il. A must have! Here we see loyal fan and aid to the republic Lexie, in the girlie-which-makes-the-tits-stand-out edition. We have the shirt in sizes M, L, XL, XXL and girlie-which-makes-the-tits-stand-out. Price: 15 euro/15$, including P&P.


May 2003
Live concerts wil take place:
8th of November 2003, Magasin4, Bruxelles (with Imminen) TBCt
A new Peoples Republic of Europe track will be released on the "Lowlands Industrialism" LP. This is an compilation LP. Other featured artists are: Condomium, IsnieZot, SARS, Spermblaster, HERAS and [Vektor] Release is upcoming in the coming two months!
March 2003:
"Among the ruins" is ready and available for purchase. Three songs are uploaded on the soundclick mp3 site as teasers. For order: Check the discography page on this site.
February 2003:
The show in Simplon, Groningen went very well! We slammed the pit. Expect foto's from that moment to remember soon.
"Among the ruins", the fourth PROE album is almost finished, and it has become a total mindfuck. Hard industrialism! Expect it around March/April.
November 2002:
The Peoples Republic wil play a show at Patronaat, Haarlem, on the 15th of December. That is a sunday. Doors open at 17:00. For more information: Patronaat Expect more shows in the future.
September 2002:
The show at Crna Ruza was cancelled due to problems with liquir delivery at the Fabriek. The show at Magnifiosi was played and went very well. The PROE came up at a second place, and didn't reach a first place because the jury felt there wasn't enough of a target audience for the PROE in Holland. The show was recorded, and a few songs actually sound very decent. We will put them up for download at a later time. Expect some pics from that show as well.
June 2002:
The Peoples Republic of Europe reached a second place at the Noord Hollands Glorie dance competition with only one and a half point short on the winner. This was The Peoples Republic of Europe's first show, and it went quite well. Expect more powernoise on stages from us.
XLII has joined the ranks of The Peoples Republic of Europe as percusionist. He has an extensive record of DJ-ing in the gothic/avantgarde scene in the Netherlands, and is well known for his artistic mixing of darkambient and power electronics.
The Peoples Republic of Europe will also join in at a bandcontest based in Magnifiosi in Lisse, The Netherlands. This will take place in october or november.